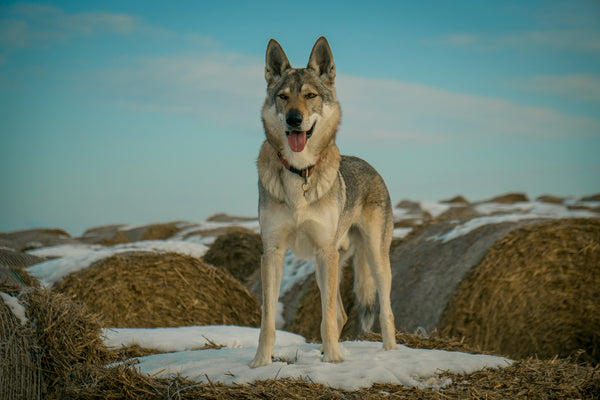 If Dogs are Carnivores, Why Does Dog Food Contain Veggies?
If Dogs are Carnivores, Why Does Dog Food Contain Veggies?
This is, hands-down, the #1 question asked of dog food manufacturers.
After all, pet parents want to do right by their dogs. So, if the goal is to maintain the healthiest diet for our canine companions, shouldn't we seek to replicate what Mother Nature herself serves up?
If dogs' closest living biological relatives are wolves, therefore, our natural inclination would be to model commercial dog food after what wolves eat in the wild, right?
The answer is… sure… except that dogs aren't wolves. And even wolves have a certain amount of greenery in their natural diet.
You see, the answer to the perfect canine diet is a lot more complicated than you might think.
That's why we've pulled together data from a variety of scientific studies to illustrate the controversial question as to whether we should be feeding Fido grains and greens or stick to a completely meat-based, grain-free dog food.
Aren't Wolves Carnivores?
Let's start here – what do wolves and wild dogs eat?
Wolves are classified as carnivores, yes. Specifically, wolves are both hunters and scavengers.
But did you know that some wolves have been found to eat plant matter? Researchers have found berries, apples, pears, grasses, herbs, leafy veggies, nuts, and seeds in the digestive tract of wolves.
In fact, many studies have found that, more often than not, wolves' diets contain plant material. These studies suggest wolves ingest greenery for a variety of reasons, from helping relieve stomach upset to seeking needed nutrients during a time of food scarcity.1
On the other hand, there are researchers who argue that wolves really aren't eating plants on purpose – they're simply getting second-hand matter from their prey. Some researchers have observed that wolves avoid eating the parts of their prey that contain plant material – the stomach and intestines. Their conclusions are that the health of the wolf really doesn't depend on these bits of incidentally ingested plant material.2   
So, why the contradictions? What should we think?
It turns out – the diet and behavior of wolves in the wild depend on their species and the geography of where they live. In general, wolves will forage actively for plant matter.
So, You're Saying Wolves Aren't Really Carnivores?!
Hang on, no. That's not what we're saying. The reality is that the term carnivore  doesn't mean the animal eats exclusively meat. It means that the majority of their consumption is based on meat. 
There are actually two, more-specific, terms to keep in mind: obligate carnivore and facultative carnivore.
Obligate carnivores depend entirely on animal prey to gain necessary nutrients.
Facultative carnivores also eat non-animal food.
Wolves and dogs are facultative carnivores.
Furthermore, Modern Pet Dogs are not Wolves
Genetically, dogs and wolves are 98.8 percent identical. Which sounds pretty close. But, if you bear in mind that human DNA is 99 percent identical to that of chimpanzees and bonobos, it may shift your expectations a bit.3
Actually, it turns out that our pet dogs aren't even direct descendants of today's living grey wolf. There was another link in the evolutionary tree, which is now extinct, meaning we shouldn't look to modern, wild wolves as the natural prototype for our pet dogs' meal.
Dogs are far more omnivorous than wolves.  Wild dogs around the world have been shown to be primarily scavengers, their primary sustenance coming from garbage dumps or handouts from humans. On the rare occasion that dogs will actively hunt prey, their efforts aren't anything like the fine-tuned cooperation seen from a wolf pack. Dogs are just not effective hunters, and their diet varies much more than their ancestors.
Research shows that dogs and wolves differ significantly not just in behavior but also in their biological ability to process different foods, too.
For example, dogs have more copies of the gene that allows them to digest starch. Wolves do not produce amylase, which breaks down starch in the diet. However, modern dogs do, suggesting an adaptation to process non-meat foods.1
So, What Types of Plant Materials Do Dogs Thrive On?
Plants provide dogs with beneficial vitamins, minerals, antioxidants, enzymes and phytonutrients not found in meat.
But, as it turns out, diet isn't just about getting specific nutrients from food. There are more factors to consider, such as supporting a healthy microbiome.
The microbiome is the total ecosystem of bacteria within the gut. And the scientific community has been obsessed with studying the microbiome over the past decade.
Overall health, including immunity and life span, has a lot riding on the microbiome. More specifically, the variety of bacteria in the gut is an important factor in overall health.
For one thing, researchers have recently demonstrated a link between low gut bacteria and obesity in rats and humans.5
Research also suggests the variety and specific types of bacteria in microbiome may affect the life span of animals and humans. 6
So, one goal in considering a canine diet that includes plant products is to maintain a healthy microbiome.
Foods that contribute to a healthy microbiome include:
Raw foods
Fermented foods
Foods high in fiber
Fruits
Vegetables
Nuts and seeds
Foods that impair the microbiome include:
Processed foods
High fat
Foods high in sugar
Produce to Avoid
While we obviously support the inclusion of fruits and veggies for Fido, it's important to note that the following foods have been shown to be totally toxic or adversely affect many canines:
Raw tomatoes
Avocado
Grapes (kidney damage)
Raisins (kidney damage)
Onions (anemia)
Garlic (anemia)
Chive (anemia)
So, Fruits and Veggies are Fine, but What about Grains?
Many pet food manufacturers and pet owners have made the switch lately to grain-free dog food meals with the intent of lowering the obesity rates in the modern pet, along with other high carb-related health concerns such as low-energy, diabetes, and pancreatitis. 
It has long been thought that dogs need carbohydrates for energy resources, but research as far back as 2006 concluded that dogs really don't need carbs after all.
In a 2006 committee on Animal Nutrition, the National Research Council released the results of a lengthy study on pet nutrition in an equally lengthy book, "Nutrient Requirements of Dogs and Cats."
It's important to note that this was a group that didn't take its job lightly. They conducted detailed research with the understanding that it would be used as a textbook on pet nutrition for commercial feed industry and pet owners evaluating their options. The last time such a comprehensive study was conducted was 1986. Needless to say, it was time for an update.
"Nutrient Requirements of Dogs and Cats has used the latest scientific information to provide the requirements for individual nutrients and the scientific basis for the requirements of healthy dogs and cats at several stages of growth and physiological states."
 The research included a wide range of factors, too. Such as:
Digestive functions
Hormonal aspects of digestion
Digestibility
Energy requirements
Differing nutritional needs during growth, pregnancy, & lactation
Behavior related to feeding
Perceived taste and preference observation
There have been several other independent studies that have concluded the same: that a dogs' health and vitality do not depend on carbohydrates in their diet.
So, if there's no biological necessity for carbs, and there is linking research between high carb diets and obesity, diabetes, lower microbiome health, and overall vitality, then why pack pet food with carbs? With that sentiment, many pet food companies have decided to recalibrate their formulas with fewer grains or creating grain-free dog food altogether. Spring Naturals low-glycemic dog food is one of the first grain-free foods to become certified low-glycemic dog food as well. 
The Reality is Every Dog Processes Food and Nutrition Differently
Here's the thing. Every dog is different. Today's dogs (Canis familiaris) are the most diverse species on the planet.
Some dogs have better vitality with more plant material in their diets and some don't.  There's even a huge variation in genetic markers for starch-digesting amylase within the species. "AMY 2B copy numbers vary widely within the dog population, and it is not clear how this variation affects the individual ability to handle starch nor how it affects dog health."7
Your hope as a pet parent is to work with your veterinarian and trial options to find the best combination of ingredients to satisfy your pet's taste and health.
The hope for pet food makers behind supplementing pet food with produce includes:
Adding a variety of nutrients
Support a healthy microbiome
Lower the risks of illnesses caused by nutrient deficiency
What Ingredients We Focus on in Spring Naturals Meals
Spring Naturals is the original high-protein kibble to be a certified low-glycemic dog food. We were the first to introduce whole pet food, the first to use human-grade meats and nutrient-dense superfoods like whole fresh fruits, berries, and vegetables.  We target the fact that pets today face the highest ever rates of pet obesity, diabetes and heart disease because of highly processed, mass-produced pet food.
We use only real meat (no meal or by-products), and whole foods with no grains or rices, leaving us with our low-glycemic dog food that's not just designed for diabetic dogs, but for any dog whose owner is health conscious.
Our foods include the following non-meat superfoods for these reasons:
QUINOA: Rich in calcium, phosphorus, vitamin B and iron. An excellent energy source, this superfood has been associated with the prevention of cancer, diabetes and heart disease
BLUEBERRIES: Blueberries are packed with fiber which aid in your pet's digestion and helps control blood sugar levels.
CRANBERRIES: Cranberries have long been used to help pets and people alike experiencing kidney issues and urinary tract infections.
SWEET POTATOES: High in fiber, sweet potatoes are a great source of antioxidants, iron, Vitamins A, C & B. They keep your pet coat healthy and support a strong immune system.
SPINACH: Known for its high iron content, spinach is a fiber-rich superfood. Its high-levels of Vitamin K contribute to proper bone health.
Our handcrafted low-glycemic dog food recipes are the most nutritionally and functionally balanced dry dog and cat food on the market today. It is perfect for all feline or canines alike.
We hope you'll consider all of the nutritional information provided by current scientific research and veterinary science to evaluate the best options for your pet's food!
References:
1The diet of feral carnivores: a review of stomach content analysis. JAm Animal Hosp Assoc. 1979 Nov/ Dec; 15
2Wolves: Behavior, Ecology, and Conservation David Mech, Luigi Boitani.
3Genome Sequencing Highlights the Dynamic Early History of Dogs. Adam H. Freedman,. Affiliation Department of Ecology and Evolutionary Biology, 2014.
4Copy number variations in the amylase gene (AMY 2B ) in Japanese native dog breeds
Tonoike et al. Animal Genetics, 11 September 2015.
https://doi.org/10.1111/age.12344
5Childhood Overweight After Establishment of the Gut Microbiota: The Role of Delivery Mode, Pre-Pregnancy Weight and Early Administration of Antibiotics. T A Ajslev  1 , C S Andersen, M Gamborg, T I A Sørensen, T Jess, Int J Obes (Lond). 2011;35(4):522‐529. doi:10.1038/ijo.2011.27.   https://pubmed.ncbi.nlm.nih.gov/21386800/
6Nutrient Requirements of Dogs and Cats, Washington, DC: The National Academies Press.
7Effects of Gut Microbes on Nutrient Absorption and Energy Regulation. Rosa Krajmalnik-Brown, Zehra-Esra Ilhan, Dae-Wook Kang,  and John K. DiBaise,
https://www.ncbi.nlm.nih.gov/pmc/articles/PMC3601187/?fbclid=IwAR0wMgguXFCCb68yLiL3zir6dY3fUdsZgTENLDtu43MKkfeQZinC6KgNz20
6Gut Microbiota and Extreme Longevity, ElenaBiagi et al. Current Biology, 2016.
https://www.sciencedirect.com/science/article/pii/S0960982216303384
7 Amylase activity is associated with AMY 2B copy numbers in dog: implications for dog domestication, diet and diabetes, Maja Arendt, Tove Fall , Kerstin Lindblad‐Toh, Erik Axelsson. Animal Genetics, 28 June 2014. https://doi.org/10.1111/age.12179