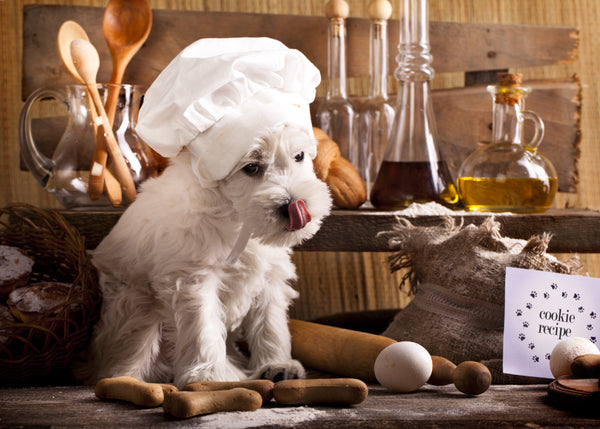 Healthy Treats for Pets: Veggies, Recipes, and More
Pets love treats, and as a pet owner, you want to spoil them every now and then. However, what if we told you that you can have the best of both worlds – that is, give your pets treats, while keeping them healthy? It's an increasingly popular choice these days, and so we're here to list some healthy treats for pets – both dogs and cats!
Healthy Treats for Dogs
Most dogs aren't very choosy about their treats, and will enjoy a piece of vegetable or fruit. However, here are some of the best ones to give to your dog, based on their preferences and the nutritional value of the item:

1. Carrots – Whether it's baby carrots or full-size ones, most dogs enjoy them. You can give it to them raw, steamed or boiled depending on their preferences. Carrots are loaded with nutrients and act as a fun, crunchy snack! You could try giving your pup a carrot core to see if they like it – if they do, that's a win-win for you!

2. Peas – Dogs can be given garden peas, sugar snap peas or mangetout. They can be frozen, thawed, raw, boiled, any which way. Just avoid giving them tinned peas. Dogs love eating the pods, since they're a little sweet. Peas are a great source of protein, and contain vitamins A, B, C and K, plus a bunch of important minerals.

3. Broccoli – While broccoli isn't something all dogs like, some dogs love the stuff. Give them only a small quantity, because broccoli may cause gas in dogs. It is super healthy, with vitamin A, C and D, folic acid, fiber, chromium and calcium – among other things.

4. Oranges – Here's our first fruit mention! Peel and de-seed oranges, and then you can give them to your dog as a tasty yet healthy treat. These lovely fruits contain vitamin C, Potassium and loads of fiber.

5. Strawberries – These delightful little berries are loaded with nutrients such as fiber and vitamin C, and are super tasty too! Your dog will love them. They are high in calories, so feed them in moderation. One surprising benefit of strawberries is that they can make your furry friend's teeth whiter!

6. Bananas – This fruit makes for a tasty snack that your dog will enjoy. Peel the banana and give your dog a small piece. The sugars in them give your dog energy, and bananas also have amino acids, vitamin B and C, Potassium, and they're great for improving heart health and blood pressure!

7. Cucumber – Cucumbers are an excellent low-calorie snack ideal for overweight dogs or pups that need more water in their diet. You can give it to them peeled or otherwise. These have almost no carbohydrates, fats or oils, and contain vitamins and minerals that are essential to dogs' health.

8. Ice cubes – Now here's a fun one! Give your dog a couple pieces of ice in a large bowl, and your pup will spend a long time chasing the pieces around, nosing around in the ice, licking it, and generally having fun. Avoid giving it to them during winter, as they may catch a cold. Also ensure that the pieces are small enough so your dog doesn't choke.
Fun Recipes
These were all easy one-minute treats that are great for dogs. However, if you're willing to spend a little time preparing treats for your pup, you can make them one of these healthy treats:

1. Peanut Butter and Pumpkin

Peanut butter is safe for dogs to eat, and so is pumpkin – so combine the two, and you've got a winner! For this treat, you'll need 2.5 cups whole wheat flour, 2 eggs, half a cup canned pumpkin, 2 tbsp. peanut butter, and half a teaspoonful of salt. Preheat the oven to 350 degrees. Next, whisk together all the ingredients, adding water as needed. Roll the dough into a half-inch thick roll, and cut into half inch pieces. Bake for about 40 minutes, and then you'll have a couple dozen treats for your dog!

2. Peanut Butter and Pumpkin Cake

If it's your dog's birthday, make them a cake instead of buying one – it's healthier, and the process is fun! For this recipe you will need 1 cup flour, 0.5 tsp baking soda, 1/8 cup vegetable oil, a quarter cup peanut butter, half a cup applesauce, half a cup pumpkin puree, and one egg. Preheat the oven to 350 degrees, mix the wet and dry ingredients separately and then together, pour into a greased round pan, bake for 25-30 minutes, and then apply frosting made with Greek yogurt and peanut butter.
Healthy Treats for Cats
Kitties love a good treat – I mean, who doesn't? If your cat has been aching for some variety in his or her treats, here are some fun, easy ideas that'll help you change things up without going the extra mile (or compromising on your pet's health):

1. Cucumber – Cats terrified of cucumbers caused a sensation on the internet not long ago. It's hilarious. However, not all cats are afraid of the things – especially not if they're chopped up and given to them as a treat. Give your kitty a bit of cucumber and they'll happily chew on it. It's perfectly safe for cats, and can be given to them peeled or unpeeled.

2. Carrots – Just like with dogs, carrots are a-ok for cats to eat – and they usually rather like them! You can give it to them steamed, baked, or otherwise cooked. Avoid giving cats raw carrots, as they may pose a choking hazard. Carrots are a great source of beta-carotene, which turns into vitamin A once digested.

3. Peas – Many commercial cat food products contain pea, and that should tell you all you need to know about this wonderful vegetable. Peas are completely safe for cats, and can actually be quite good for them! They make for a tasty treat, and can be given fresh, frozen or cooked. As long as they're soft enough to be chewed, they should be okay.

4. Broccoli – You can give your feline friend steamed broccoli. While many humans turn up their nose at the vegetable, cats are quite fond of it. As long as it's plain and unseasoned and properly cooked, they are perfectly safe.

5. Winter squash – If you're cooking up some squash, don't forget to spare a little bit for your furry friend! Cats love fruits, and winter squash is one of the best ones for them. Generally, it's a good idea to avoid giving your cat uncooked veggies or fruits, as they may be unpalatable, and difficult to digest.

6. Spinach – Doesn't sound like a treat, does it? Well, ask your cat! Felines enjoy a bit of spinach, and unless they've had urinary or kidney problems in the past, spinach is safe to give to them as an occasional treat. It contains several nutrients that are good for your cat's health, so it's a lovely, healthy treat. Spinach can be given to cats cooked.

7. Asparagus – Steamed asparagus is excellent as an occasional treat for cats. It contains loads of fiber, potassium, and several vitamins – all of which add up to one healthy veggie! Make sure you only give them a small amount, and cut it up into small pieces, so they aren't a choking hazard.

8. Cheese – Love cheese? Does your cat, too? Most people don't know that cats can eat a little cheese. Try it as an occasional treat, and as long as your cat isn't lactose intolerant, they'll be perfectly fine with it. In fact, some cats go nuts for the stuff! Just give them a small piece, however.
Fun Recipes
Now, let's look at some easy-to-make recipes that'll yield fun treats for your little meower.

1. Salmon Cat Treats

For this recipe, you'll need salmon, egg, and flour. Place the undrained salmon in a food processor, and chop finely. Combine the three ingredients in a mixer till you get a uniform dough. Roll the dough out onto a floured surface and cut into little shapes. Bake for about 20 minutes, until lightly browned and crispy.

2. Tuna Birthday Cake

You will need half a can drained tuna, 1 tbsp. flour, half an egg white, half a tsp shredded cheddar cheese, and 2 medium peeled, cooked shrimp. Preheat the oven to 350 degrees. Next, combine the first four ingredients in a bowl. Spray 2 muffin cups with cooking spray and fill them with the mixture. Bake for 15 minutes, and then allow it to cool. Finally, garnish the cakes with shrimp.
Spring Naturals – Healthy Food for A Healthy Pet
While treats are to be given occasionally, healthy pet food is something you need every day. For your pets' nutritional needs, look no further than Spring Naturals! We provide healthy food for cats and dogs, and our blog archive will tell you everything you need to know about your pet's health and nutritional needs.

Psst – for healthy treats that come packed and ready, bookmark our website and check back in a while!